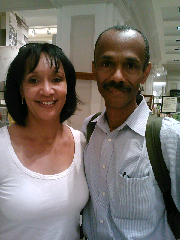 Michael Nolden Henderson was featured in an
episode of PBS's History Detective on the Galvez Papers.
If you don't know
Michael Nolden Henderson
, then people...now is the time for you to Look-Him-Up! As a graduate of Louisiana's Xavier University and a retired US Naval Officer, his latest project has landed him smack dab in the middle of your history books. On June 29th 2012, Mr. Henderson became the First African American in the state of Georgia to be inducted in to the National Society, Sons of the American Revolution. Featured recently on the extremely popular BlogTalk Radio Show, Research at the National Archives and Beyond with Host Bernice Bennett, Mr. Henderson's fascinating story has its genesis in the records of a free creole woman of color by the name of Agnes Mathieu. I had the pleasure of meeting Mr. Henderson and his significant other today as they happened to drop by the National Archives in Washington, DC.
For more on the incredible story go to:
http://blog.eogn.com/eastmans_online_genealogy/2011/12/georgia-lineage-society-installs-first-african-american-as-chapter-president.html